Welcome ....
To our virtual store. Feel free to look around, but do come to our physical store located at 157 Marlborough Street in Portland, CT - across from Cross Street and next to Campagna Restaurant. We have much more inventory there than we show in our eBay store.

Since most of our business is through word-of-mouth from our satisfied clients throughout all of Connecticut (which includes doctors, lawyers, police officers, and town officials), we keep our advertising costs low and can pay you more.

Don is our staff numismatist (coin guy) with over 20 years experience in coins and currency, grading, authentication, and market valuation.
Steve is our resident retired police officer and has an outstanding funny personality that warms everyone's hearts.
Trust Don and Steve when you sell your items, collection or inheritance.
Call us at 860-342-2100
and mention you saw this website
Be sure to check out our About Us page and our new Facebook page.

Since we opened Aug 2008, we've paid out over $14 million for precious metals to collectibles. We get many referrals from satisfied clients and local jewelers.
BBB accredited.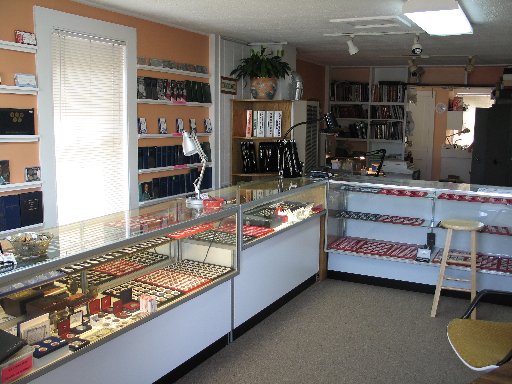 Note:
This virtual store is currently under construction, so orders cannot be placed here yet....


Convert Your Stuff to $$$

We are buying


| | |
| --- | --- |
| | Unwanted Gold, Silver, Platinum Jewelry |
| | Dental Gold and Palladium |
| | Estates and Inheritances |
| | Sterling Flatware (pieces and/or sets) |
| | Sterling Candlesticks, Bowls, Plates, ... |
| | US 90% Silver Coins 1964 and before |
| | US 40% Silver Halves 1965-1969 |
| | US Silver Dollars 1935 and before |
| | Proof Sets and Mint Sets |
| | Old US and Foreign Coins and Currency |
| | Old Collectible Pocket Watches |
| | Civil War Encased Postage Stamps |
| | Unused US Stamps before 1920 |
| | Other Collectibles |
| | Diamonds - Raw and GIA certified |

NOW BUYING:
SILVER PLATED trays, dishes, tea sets, flatware
GOLD FILLED jewelry, pocket watches, etc
PEWTER holloware, flatware, jewelry, etc

If you can't come to us, we may be able to come to you! We'll travel throughout most of Connecticut. Call us to make arrangements.
Selling ....

Estate Jewelry
We have an assortment of estate jewelry in stock at prices far below what you would pay in a retail jewelry store.

Coins and Currency
We have an inventory of coins and currency at the store. If we don't have something, we may be able to get it for you.

Coin Books and Supplies
2x2s, flips, magnifying glasses, coin pages, coin albums, reference books are some of the types of supplies we have at the shop.